Everyone go through phases in their lifetime -- rather it is makeup, purses, stickers, nail polishes, shoes, etc. Also, I kind of feel like sometimes a girl is either a purse or shoe person (makeup is a given). I was browsing through my posts so far and I've realized that a lot of it has been on hand bags. I've been in this purse/hand bag phase since summer. I started off with one cross body bag then that slowly turned into two and well the numbers just keeps increasing. It's almost sad to say that I usually don't carry a hand bag since they're a hassle to bring to school (but that's not stopping me from buying more).
I've been seeing replicas of the Mulberry Alexa's bag everywhere I go. Forever 21 had a navy one and H&M is currently carrying a similar bag in tan and black. Of course there's always that replica from Asia (not saying that they always copy brand name items they just tend to do it a lot).
With that said I made a purchase at
Sky Blue
at the end of September for eight bags (yes, I know that's a lot). Two of the eight bags are Mulberry Alexa replicas. I bought one in black and one in tan. I purchased both because I wasn't sure which color I prefer. I have not received the bags yet since one of them is still out of stock and they're waiting until it comes back in stock before they send all of them -- I guess having one big package is cheaper than separate ones. I'm hoping to receive them by mid-November at the latest
Here's a look at the eight bags that I purchased. Reviews and actual pictures will be posted once I receive them.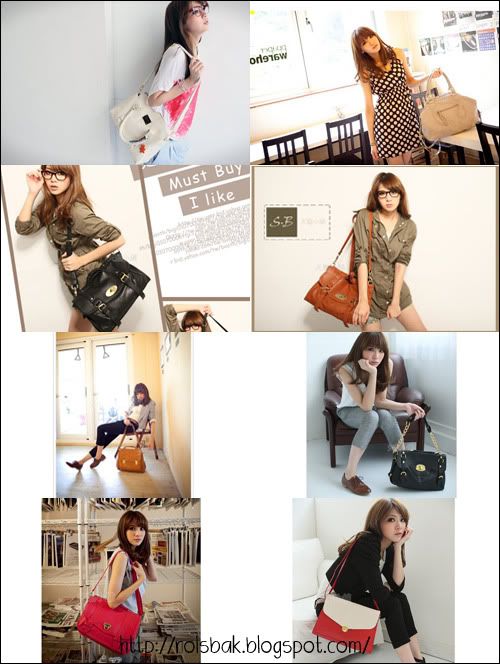 On another handbag note I went to Target last week to take a look at the Mulberry for Target collection. Honestly, nothing really called out to me. I just ended up purchasing the denim satchel bag for $49.99. If you looked online they had a velvet black satchel handbag for the same price but that particular bag does not hit store until November 14th, 2010. From the looks of the pictures online I feel like that bag is probably the best one out of the bunch. I'm considering purchasing that bag when it hit stores also but we'll have to see on if I'm still in my handbag phase!
As a quick review, I would have to say that this bag is pretty decent. If you're looking for a high quality bag then it's probably not for you. I really thought that the quality of the bag was going to be a lot better than this but I was wrong. There were scruff marks all over the flap when I purchased it. I went to other Targets and realized it's like that for all of the bags. If I was to rate the quality of the bag I would give it a 7 or 8 out of ten.