I know there are many reviews on the Rock & Republic blushes already so I am going to keep this short. I've heard nothing but great things about these blushes but it wasn't until recently that I gave in and purchased some. The reason why I didn't jump on the bandwagon when I first heard about them is because I was able to justify paying $40 for each blush and not even $20 when they were on Hautelook. It wasn't because I was cheap—well, maybe it kind of was (LOL!) but I don't wear makeup as often as I should (especially with my makeup collection). Plus, I'm not that big on blushes—when I do wear makeup I usually just do the eyes.
So long story short, because I didn't purchase them right away I was left with just the leftover colors. I say this because majority of the Rock & Republic blushes have been discontinued. I've heard many things like they're discontinuing their whole makeup line to they're making room for new colors. Whatever it may be, I was only able to purchase the colors that they did have and those were: Immoral, Tease, X-Rated, & Seduce.
I was absolutely amazed by the packaging and the pigmentation of these blushes. When they first arrived my initial thought was, "OMG, did they send me the wrong stuff?" because I was not expecting them each to come in circular boxes. It was only after I've opened the boxes that I've realized there were no mistakes—the packaging was just that awesome. The blushes are outrageously pigmented and the thing I like most about them is they stay on forever! I don't know about you but I hate re-applying my makeup. I am a busy person so I hate it when I have to waste time re-applying my makeup because they're not keeping up with me and I really hate having to carry a cosmetic bag inside my purse. So the staying power on these blushes is definitely a plus for me. Each blush is roughly 0.32 oz. which is a lot of product and with the pigmentation being so amazing a little really does go a long way. I swear these blushes will last you forever—or at least until you have to throw them out for sanitary reasons.
Each blush arrived in this circular box:
Inside the box:
The blushes:
They are all a lot deeper in color than in the picture.
I promise even though Immoral looks and is very orangey in color it's great for anyone with a yellow undertone.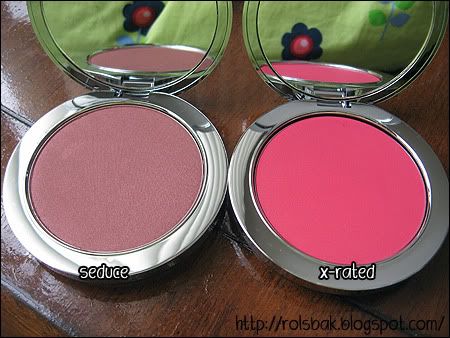 Swatches:
Again, the blushes are a lot deeper in color. My camera is just horrible at capturing the true color.
I know I wrote that I bought these for about $8 each off the
Rock & Republic
website. It's because I was able to get two blushes for $15.99 when they were offering shipping for 99 cents. Unfortunately, shipping is back to the normal price but you can still purchase two blushes for roughly $23-24 shipped.
Step One
: Register for a Rock & Republic account via a referral
link/invite
. When you register through a referral link/invite you are given a $25 credit that can be used on anything as long as your total is over $75. What you can also do is register for an account and then invite yourself through a different email.
Step Two
: Add two of the
blushes
to your cart.
Step Three: Apply the promotion code ROCKCOSMETICS to your purchase. This code gives you 50% off any of their cosmetics.
You should see an immediate discount and there you have it you're able to get two blushes for roughly $23-24!