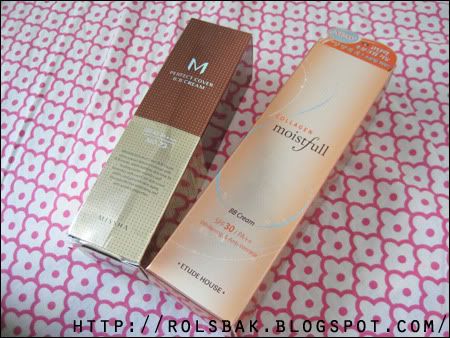 Last month I bought two bb creams, Missha Perfect Cover BB Cream and Etude House Collagen Moistfull BB Cream. These two are my first bb creams that I've purchased. I have used bb creams before but never own any.
Missha Perfect Cover BB Cream #23
SPF 42 / PA +++
50ml
Etude House Collagen Moistfull BB Cream #2
Whitening and Anti-Wrinkle
SPF 30 / PA ++
50ml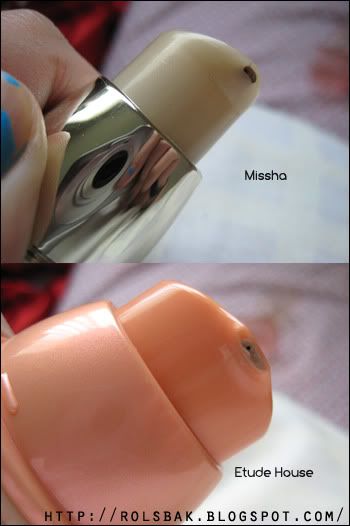 The Missha bb cream comes in a tube with a pump and the Etude House bb cream comes in this plastic container-ish (the type of packaging is at the tip of my tongue so in the meantime I'm going to stick with this vague description) with a pump as well. I prefer the container of the Etude House bb cream because it is sturdy and of better quality. However, I prefer the pump on the Missha bb cream because the pump on the Etude House bb cream is very flimsy. It's like they got everything right about the packaging except for the pump.
Top view of the pump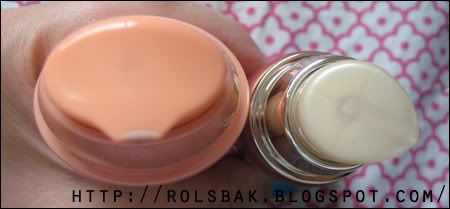 I'm not familiar with MAC shades so I cannot specify what shade I am but from Temptalia's guide I'm light to medium so I guess NC20-NC30?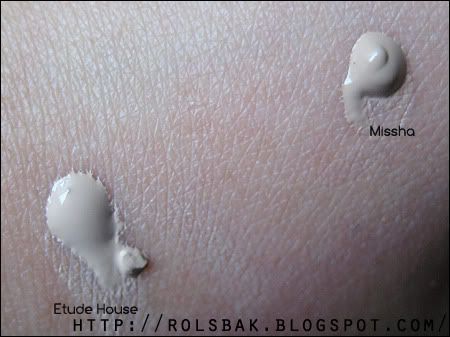 Both the Etude House bb cream and the Missha bb cream are creamy in texture. The Etude House bb cream is slightly lighter than the Missha bb cream even though both are supposed to be natural beige.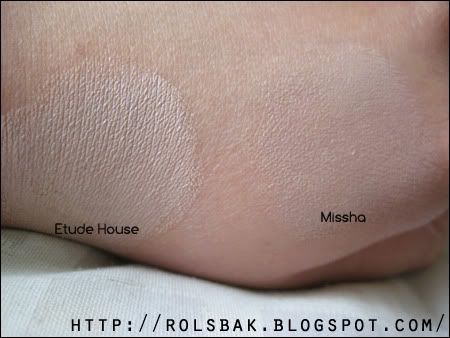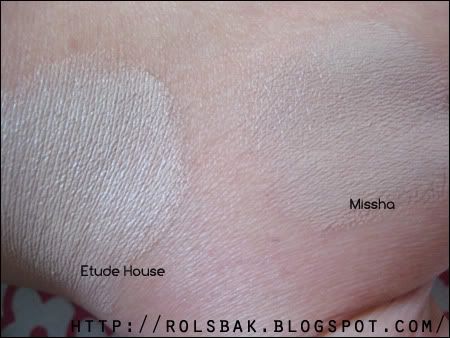 Swatch of BB Cream in another lighting.
At the beginning I thought that the Missha fit my skin color more but as I use both bb creams more and more I realize that when I first apply the bb creams the Missha one blends in well with my skin color but after it oxidizes it is a little darker with this gray-ish tone to it. The Etude House is lighter when applied but when it oxidizes it's closer to my skin color.
In terms of coverage both bb creams have a medium to full coverage. I think the Etude House bb cream have slightly more coverage though. However, they're buildable if you want more coverage. They both have a matte finish.
Both of the bb creams have a smell to it. I can't really describe the smell of it but it's not bad. I think the smell for the Missha bb cream is just a little more overpowering than the Etude House bb cream.
With oil control, my face started to shine within 3-4 hours with both bb creams which isn't a big deal to others but I hate having to blot the oil off my face every couple of hours. I mean it's not that I'm lazy or anything but I just don't normally like doing retouches ---- Okay, maybe I am lazy (LOL!)
Overall, I think both bb creams are good. I'm not in love with them but I don't dislike them either. I wouldn't pick one over the other because I think beside the color both bb creams were pretty similar.
If there's any bb creams that you think I should try out, please leave me a comment! =)