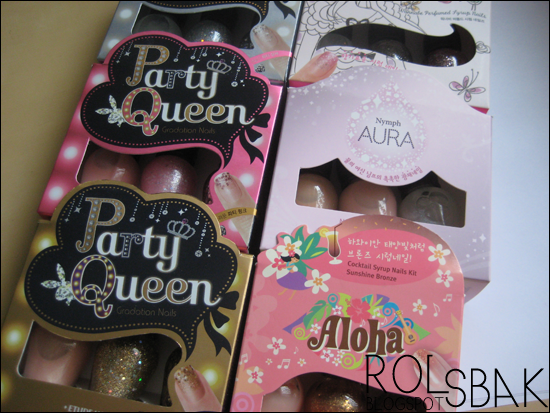 I'm not exactly sure how long Etude House has been doing nail polish kits like this but I bought my first one from their
Aloha
line. They retail roughly between 5,000-6,000 won which is about $5-6 USD. If you were to buy it off eBay they can cost as much as $10 or more.
I personally adore these nail polishes. I love how in each kit they have steps for you to achieve a gradient design. Underneath each polish they list which polish comes first, second, and third. I have six nail polish kit and all of them except for one are the three step to create gradient effect on your nails. The one that's not part of this comes with two cream colors and a glitter polish that you can put on top on either one.
I'm kind of lazy when it comes to applying nail polish. I usually never use a base or top coat. I find it to be so time consuming and honestly I hate waiting around for my nail polish to dry. I also like to pick the nail polish off my nails especially when I'm in class or just bored. What I like about these nail polishes is that I don't have to use a base or top coat and it'll stay on for a long time without chipping. Also, it stays on so well that I can't even pick them off my nails! I think I wore the Aloha gradient for almost all of December until I decided to remove it with nail polish remover. I will say that the newer kits do not last as long as my Aloha kit.
If I was to estimate how long they last without chipping I would say at least a week but I've had them not chip for more than two weeks (I know, I might be the only person that wears the same manicure for more than a week -__-;;) Beauty products are always subjective (they work differently for different people) but for me these nail polishes are one of my favorites. They're also very inexpensive if you can get them close to the retail price but even if you were to buy them off eBay for $10 it'll work out to be $3-4 a bottle which is still pretty cheap (and practical).