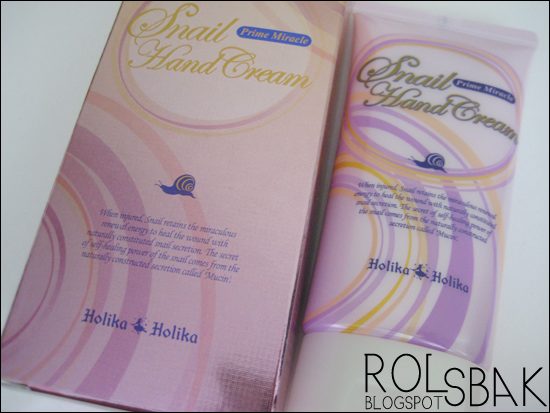 If you guys remember the
G-Market purchase
I made a few months ago I bought a bunch of hand creams for my super rough and dry hands.

Holika Holika is a Korean cosmetic brand. The products are equivalent to the drugstore brands here. I think the brand is currently being endorsed by CN Blue and Sistar? Nevertheless, the brand has this whole witchy-Harry Potter kind of theme going on.


This snail hand cream from Holika Holika is pure love. Forget the
Etude House Missing U
hand cream, this one is so much better. It absorbs better and it doesn't really have that greasy feeling you get sometimes from hand creams/lotions.
There's supposedly snail secretion in the hand cream which makes it hydrating and protect your skin. I've been told it's good for "skin rejuvenating" I'm not sure if any of that is working for me. I would probably have to use it for a very long time and honestly, it's for my hands so I really don't care for it that much as long as it keeps my hands moisturized.
It comes in a tube which is nice and more hygienic than the Etude House Missing U hand cream. I find the hand cream to have a whipped kind of texture (see photos below). The hand cream has a slight rosy smell to it which isn't so bad.
There's not much to say about this hand cream. It does the job well and I really like it. It comes in a 80ml tube for roughly $10? I can't remember the exact price I paid for it but I know it was around the $6-10 range. Those that are avoiding parabens should avoid this as it contain some.